♥    on  22nd April 2018 were born our new puppies 
Welcome to our website about the Entlebuch Cattle Dog breed, our bitch Ich. April Schatzi Swiss Tricolor and our SWISS ART kennel.
About us
April Schatzi – for us Schatzi – was born on 30th April 2014 at the Swiss Tricolor kennel.
Her parents are Ich. Auksis Interpola and Ich. Aireen zpod Ondřejníka.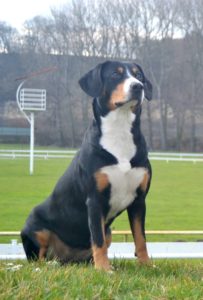 April Schatzi is a typical Entlebucher female according to the breed standard – lively, bright and cheerful. She has a sweet and devotional nature and she is always ready to learn something new. Schatzi is our family dog and she lives with us at home in a family house on the outskirts of Ostrava.
On 26th March 2016 April Schatzi successfully passed all the breeding tests with excellent health results and she was registered as a breeding bitch with our Swiss Mountain Dog Club.
HD A/A, ED 0/0,  EU A,  prcd/PRA A normal/clear, free of  inherited eye diseases   more Entlebucher and Health
April Schatzi has taken part in many dog shows and in August 2017 she became an International Beauty Champion (C.I.B.)   more Shows
… and in  September 2017 our Schatzi gave birth to her first Entlebucher puppies.     more Puppies